About Us
CLAREMOORE Refrigeration is an established family owned and operated business that has been serving the Hamilton community for over 75 years. Our business is focused on providing refrigeration, air conditioning and heating service and preventative maintenance to our customers in the commercial and industrial sectors. Furthermore, we also provide extensive service to the marine industry in the Ontario and Great Lakes region.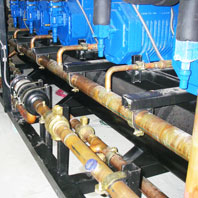 Our accredited technicians use modern tools and technology to assess your service and maintenance needs as well as time-tested procedures to ensure performance and quality of service. Our technicians are reliable, personable and are available to provide long-term and strategic planning for your business. By carefully listening to your needs and providing professional, experienced advice and service, our technicians ensure that your job gets done quickly and correctly.
All technicians are required to be trained in government recognized courses for Ozone depletion prevention. We want to make certain that we do our part in helping our clients remain environmentally responsible. Claremoore also insists that all of our employees hold up-to-date certificates in their safety, fuel and refrigeration training.
Claremoore Refrigeration is affiliated with the H.R.A.I. (Heating, Refrigeration and Air Conditioning Institute) and is governed by the T.S.S.A. (Technical Standards and Safety Authority).
Our Affiliations
H.R.A.I. (Heating, Refrigeration and Air Conditioning Institute)

T.S.S.A. (Technical Standards and Safety Authority)